Follow Vince on

A Word from Grand Knight Vince Ursini

HOW TO LOSE WEIGHT
Published on: Friday, September 29, 2023
1. Buy a WIThings Scale (tracks , charts, and tells you how much you lost daily?)
2. Get up EVERY morning go to the bathroom and weight yourself. If the scale says +++ ##lbs YOU ATE TO MUCH THE PREVIOUS DAY. BAD BOY or GIRL. If nothing lost no worries keep eating the way you are. MINUS SIGN OH YAH
3. DURING the day: STOP EATING TO MUCH!!!!!!
4. EAT BREAKFAST, LUNCH, DINNER. Remember STOP EATING TO MUCH.
5. WORK out for faster results. THE BIGGER you are the faster your weight will come off.
HERE IS MY CHART
The Knight Shield - October 2023
Published on: Tuesday, September 26, 2023
The Corporate Communion this past September was really special. The Cardinal Mooney High School Football team was there with their staff and some parents. It was great to see such an upstanding group of young men. These men were not just sitting there at the request of their coach, but actually participating in the mass and listening to another awesome homily by Father Ron. They loved the choir's communion song "Gonna Sing" and you could see the spirit work in them as they clapped their approval after the song.
It got me to thinking of my days back playing football and what I had aspired to be while in High School. There was a lot of uncertainty at that time, but the more I leaned on my faith, the clearer the picture became. It was evident to me then, that students who had little or no faith background seemed to struggle and lived in the now rather than plan for their lives outside of High School. Our presence as Knights, I believe, favorably impressed them. And, thanks to Deacon Marc who talked about the important programs the Knights are engaged in here in this community. These young people need positive role models. Let's be that for our community.
I'm expecting several of these young men to join our ranks in the Knights of Columbus sometime in the near future and as Father Ron mentioned, maybe one or two will have a calling to the priesthood. Let's continue to show our presence at church and within our community. Let's continue to tell our story about what we are doing and how it impacts the lives of others. Let's continue to be there when people are in need.
The Pancake Breakfast was another success thanks to the hard work of our director Kurt Buhlinger and those that contributed cooking, cleaning or serving. The money raised is going to McCrest to assist with the feeding of homeless men, women and children. What a great cause. Thanks Brothers. I'm proud to be part of this Council and excited about the programs we have coming up. God bless our Council and God Bless the Knights of Columbus
Vivat Jesus !
Vincent Ursini
Vito Guzzardo - January 21, 1933 - September 13, 2023
Published on: Saturday, September 16, 2023
GUZZARDO, Vito. September 13, 2023. Age 90. Beloved husband of 68 cherished years to Patricia (nee Mattingly). Loving father of Carol (Don) Titus, Linda (Tim) Guzzardo, Diane (Tom) Clingenpeel, Margie (the late Dave) Briggs and Sue (Butch) Ericson. Adored grandfather of Chris Titus, Jeremy Titus, Eric Titus, Kim (Eric) DiPalma, Jennifer DeMaria, Anthony (Chantal) DeMaria, Danielle (Leo) Clingenpeel, Zack Briggs, Nick (Ally) Briggs, Matt Briggs, David Briggs, Emilee Ericson and Noah Ericson; great-grandfather of Sofia and Nina DiPalma, Enzo, Arianna and Gianna Titus and Giovanni and Nico DeMaria and David Briggs. Dear brother of Margaret (the late Joe) Buscemi, Sam (Raelene) Guzzardo and Joann (the late Simon) Perri. Survived by many loving nieces and nephews. Predeceased by his parents Vito and Mary. Vito loved spending quality time with his family and his greatest joy was the time he spent with his grandkids and great-grandkids. He loved playing cards and games with his beloved wife Patricia and loved to watch the game show channel. One of the many things Vito will be remembered for is his silliness and the joy he found in making others around him laugh at his jokes. Visitation Sunday from 3-9pm with a 7pm Rosary at Wujek-Calcaterra & Sons, Inc. 36900 Schoenherr at Metro Parkway (16 Mile). Instate Monday from 9:30am until the time of the 10am Mass at St. Thecla Catholic Church, 20740 S Nunneley Rd, Clinton Twp. Interment at Resurrection Cemetery. Please share memories with the family at their "On-Line Guestbook" at WujekCalcaterra.com.
The Knight Shield - September 2023
Published on: Monday, August 28, 2023
Fall is right around the corner, but what a summer it has been. The Ice Cream Social was terrific, the Council Camping at Algonac was well attended with a special appearance by the "Ladies of the Knights", the Council Picnic at Kurt Buhlinger's place was a big hit and Shrub and Tree Trimming all got done.
In addition to all the fun stuff (I hear some groans from the Shrub & Tree trimming volunteers), two exemplification ceremonies occurred, one in each month of July and August. We welcomed (3) new members into SPOT 11689 K of C Council, (3) new Knights into John F Kennedy Council and (1) new Knight into St Thecla Council. Plus, we have (2) more pending for Council 11689. That's a great start to the recruiting year and congratulations goes out to our Membership Director Phil Mularski. These words from Grand Knight Tom Torrento from John F Kennedy Council made an impression on me. He told the new Knights that "my decision to join the K of C was the most important thing I've done in my life, and it will be yours as well". What a great attitude. And when I hear the feedback and sincere thanks we received from the (7) local organizations that the MI Drive fund went to, we are all reminded how important our efforts are and that all our hard work pays off.
The Exemplification Committee chaired by Mike Hartel and George Loewen in the past two months was outstanding. We had several State officers in the August Exemplification that personally thanked me for the great job, but the thanks goes to the members of the Exemplification team. You made our Council look good, thanks Brothers!
A recent Journeymen's session asked the question; Is prayer your steering wheel or your spare tire (to be used only when you need it)? I'm reminded of the popular Country song "Need a Favor". The lyrics read "who am I to expect a Savior, if I only talk to God when I need a favor". Those words hit hard. Sin and prayer are incompatible . . . Pray more, sin less . . .
It will be another busy month in September with a Corporate Communion on the 17th and the Pancake Breakfast on the 24th. Rise up Brothers and let's tackle those challenges as well.
God bless our Council and God Bless the Knights of Columbus.
Vivat Jesus!
Vincent Ursini
James Henry Hubbard - AUGUST 13, 1929 – JULY 30, 2023
Published on: Wednesday, August 2, 2023
The Knight Shield - August 2023
Published on: Sunday, July 23, 2023
I love August. Football arrives before the end of the month with men working shoulder to shoulder for a common goal. Sound familiar?
It's a good time to talk about one of our founding pillars; Fraternity. The Ice Cream Social was a good example. Several Knights came out to get things set up and share in some comradery. The tent got put up in record time and although the weather was a bit of a struggle on Saturday, Deacon Marc came through with access to the Social Hall. Sunday, the sky was filled with sunshine and warmth. We had fun with Parishioners and fellow Knights alike. Having served roughly 160 constituents over the weekend, the event was a very successful activity. We received compliments and thank you's from many of those participating in addition to Father Bill (who was a joy to have around). If you haven't already done so, check out the terrific photos our Worthy Webmaster Ken Dudley posted. It was a satisfying feeling working alongside our brothers (and sisters) to accomplish that goal. Congratulations go out to our chairmen, Ken and Christine Krause.
Knights have many opportunities within this Council to join with like-minded friends and family to go to Mass together, eat, socialize, and do the good of the order. But it goes beyond just the fun stuff. Our struggles are not just in the physical. Support for our religious goals is just as important. And YES, we need our fellow man for that as well. Lean on each other for help when needed. Rob Amsler introduced a great new program with Rosary bracelets. And from his personal experience, just transferring a rosary bracelet from your wrist to the wrist of someone in need will help them. I know personally, there is much to learn about our religion, and I open myself to listening to Brothers who are much further down that path than I. It's a reassurance of the promise that God has made to us.
Looking forward to seeing all in our upcoming Potluck at Mr. Buhlinger's place and as always . . .
God bless our Council and God Bless the Knights of Columbus
Vivat Jesus !
Vincent Ursini
Want to look for more blog entries click here to search the blog
Grand Knight
Vince and Andrea Ursini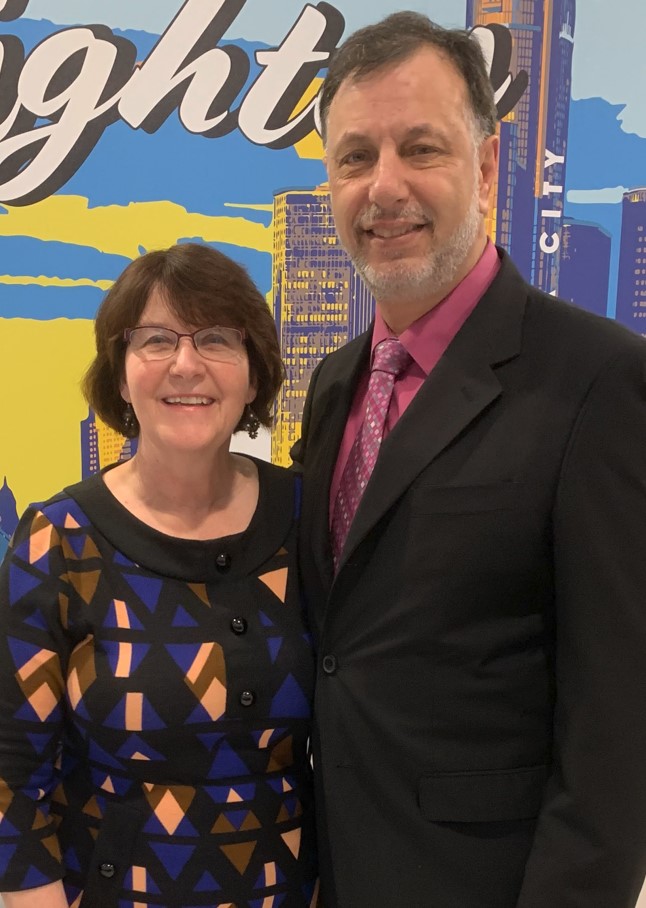 ---
Deputy Grand Knight
Gary Skarb
---
THE 24 HOUR KNIGHT
You can become an Active and Involved Knight by committing just 24 hours a year.
4 hours a year — Attend Council Corporate Communions, Prayer Services or Praying the Rosary.
4 hours a year — Attend at least two Council Meetings a year.
2 hours a year — Help at Church and Community functions such as: Working in the Parish Food Bank, or the Adopt a Road Program, Donate Blood or Walk in Right to Life Parade.
2 hours a year — Help with the Annual MI Drive.
2 hours a year — Help at a Youth Activity such as: Free Throw Context, Poster Contest, Children's Christmas Party, Easter Egg Hunt, etc.
4 hours a year — Help at Council Fundraisers such as: Pancake Breakfast, Lenten Fish Fries, Texas Hold-em events, etc.
2 hours a year — Read Council, State and Su-preme Publications.
4 hours a year — Enjoy Council Social Activities such as: Dinners, Council Picnics, Ice cream Social, Tiger Knight at Comerica Park, etc.
Make a stand, and you can discover how easy it is to make a difference in your life and that of oth-ers. May God Bless You and your Families with His Joy and Peace.
Please pass this on to Catholic gentlemen that you may know.
Thank you!!! - Phil Mularski
---